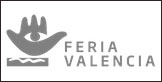 西班牙瓦伦西亚展览有限公司
(编辑:Ms.HY - 3197) 编辑日期:2016年9月22日
---
西班牙瓦伦西亚展览有限公司(Feria Valencia S.P.A.)是管理瓦伦西亚国际展览中心,组织一些重要的贸易展览及会议,公司位于市中心,公司及所管理的展览中心最早建立于1917年,拥有上百年的管理与服务经验。
选择瓦伦西亚参展及服务有8大理由:
1- THE BEST PLATFORM FOR NETWORKING
How much time and money it costs to locate a potential client and meet him achieve? Exhibit at Feria Valencia will allow visitors access to quality and therefore reduce the cost per new contact.

2- PERMITTED TO PROMOTE THEIR NEW
How much time and money invested in different promotional? Investment in advertising can become an expense when it is difficult to know if the information has reached its target audience and has been assimilated. Participate in a fair itself is an investment because it allows face-to-face customer.

3- ACCESS TO THE CONTENTS OF INTEREST
Also, congresses, conferences, conferences and workshops complement the commercial approach with professional content to share information on market trends and the future of the sector.

4- GENERATING AWARENESS / MEDIA IMPACT
The exhibition displays a large advertising campaign and media coverage: media, soportes on y off line, social networks and other actions. I have the possibility of exposing your content to be disseminated by the fair as much by media. Exhibitors information is more effective than advertising because it conveys objectively. In addition to the new Google search algorithm content distributed by third improves the positioning of your company in the search.

5- HELP RETAIN YOUR CUSTOMERS
How much time and money if you were to invest visit their clients? Exhibiting at the show will be they who will speak to you and also predisposed to seek information.

6- Allows testing MARKET
How much time and money invested in performing tests to see if your product can succeed? At the show you can see the reactions of customers.

7- TOGETHER BE GENERATED SINERGIAS
The exhibitions have agreements and collaboration agreements with associations, agencies and institutions of the most important sectors.

8- It is A PROFITABLE INVESTMENT
Stands Cheap all inclusive and ready to place their products. The time previously spent preparing the stand now can devote to strengthen the campaign for fair participation in more effective.


---
【收藏本页 Favorite】 【返回上页 Backup】 【打印本页 Print】 【关闭窗口 Close】
---
相关信息Related Information - More